About Me
More Than One Needs to Know :)
Emergence of Pod Platform (2021)
Anticipating "Zoom fatigue", we started asking, "How can we cultivate deep relationships, even with the pandemic virtual constraints?" We created a radically innovative "Pod Platform" at the intersection of "modern technology, ancient intuition, and eternal compassion". It started with an experiment of a "Laddership Pod" in June 2020 -- which was profound: Alchemy of Uncertainty Rapidly, it expanded into dozens of different pods from Education, Business, Rumi, Love + Power, Qigong, you name it -- hosted by the virtue of tens of thousands of volunteer hours. Short blog: Ace Up Our Sleeves, and more in our monthly newsletters.
Pandemic Dialogues (2020-2021)
Building on 500+ Awakin Calls, we started having various dialogues -- like on education, with Dacher Keltner, Otto Scharmer and Sanjay Sharma. I also jumped in to moderate a bunch of 1-on-1 conversations like ... James O'dea, Rev. Heng Sure, and Chaz Howard. In October, our South Asia also held Law of Love series with a Noble Peace Laureate and more.

Also remebering many dear friends, like Popat Uncle: A Humble Love Affair with Life
Early Pandemic: KarunaVirus! (2020)
By mid March 2020, we launched a news portal that shined the spotlight on responses of compassion: KarunaVirus. While traditionally financed organizations couldn't pivot quick-enough to the pandemic conditions, our volunteer response teams were not only attracting unprecedented engagement but raised six unique questions -- like how do you balance emergency with emergence?
Vortex of Noble Friendship (January 2020)
At the Gandhi Ashram, we held a paradigm-bending Gandhi 3.0 retreat with 40 luminaries from around the world, ranging from co-founder of Pinterest to permaculture farmers in Vietnam to an elected official from Austria. Short blog, and longer one here: Vortex of Noble Friendship. Very curious that the first-case of coronavirus was deteched the day after we ended this retreat.

Tokyo Award (2019)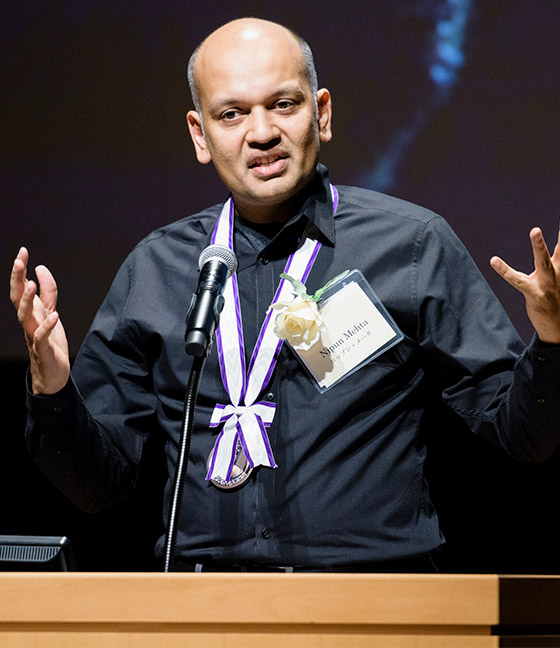 Received the Goi Peace Award in Tokyo, with this address: Designing for Flow. Past awardees included the likes of Bill Gates, Nobel Laureates and most recently Princess of Morocco. (On a related note: Gandhi and ServiceSpace)

Early 2019, a privilege to road-trip with Arun Dada for six weeks. Later in the year, among the circles I sat in, one in a small city ended up being on a new topic: On Relationships
Embrace the Grace, Around the Globe (2018)
The year started with an epic retreat in January, at Gandhi Ashram: Grand Rehearsal of Unconditional Love Among many travels around the globe, I was delighted to visit Philippines and offer: Embrace the Grace

Germany's OOOM magazine named me in their global list of 100 Most Inspiring People. I got to share a cover with Lady Gaga. :)
Algorithms and Intuition (2017)
In Munich, my engineer side came on stage: Algorithms and Intuition. Also some reflections on: 12 Questions Around Volunteerism Oh, and, Nimo dropped me into one of his rap songs: Graduation Song. :)
#MakeVirtue Viral (2016)
Commencement address at a Buddhist monastery, in City of Ten Thousand Buddhas: #MakeVirtueViral. (Plus a TedX Talk on Unlocking Multiple Forms of Wealth, and a thought experiment: Giving Away a Billion Dollars)
Visiting the White House (2015)
I got to frequent the White House, as a member of President Obama's council around poverty and inequality. While political climate of 2016 didn't allow the ripples to take root, it was a joy to see so many ServiceSpace design principles articulated at a country scale: 70 Recommendations, from Transaction to Relationships

Also, shared stage with civil rights legends John Lewis and Andrew Young in Atlanta: Radical Power of Humility
Meeting the Dalai Lama (2014)
I returned from a remarkable 4 months in India, and day after I landed, I had the privilege of receiving 'Unsung Heroes of Compassion' Award from the Dalai Lama.

Later in the year, I got to spend a week with one of his buddies, Brother David Steindl-Rast, around Compassion as a Basic Global Ethic
As "CharityFocus" Became "ServiceSpace" (2012-2013)
In January 2012, we changed our name from CharityFocus to ServiceSpace. Coincidentally, at the end of month, I delivered 'Designing for Generosity' and it went viral; then in May, the UPenn Commencement, which reached millions globally. And the next summer, Magical and Miserable.

Pilgrimage Days (2004-2005)
Six months after our inter-faith marriage, we decided to ante up. We sold all that we had and headed to Gandhi Ashram with a one-way ticket -- to embark on a walking pilgrimage. At the time, we didn't how it would impact us but it ended up changing the direction of our life.

The Early Days (2000-2002)
My first public talk at a local monastery -- Spirit of Service; first major press story Charity Begins at Home; first time on TV: Half Hour on CNN. All spontaneous and unsolicited.

Good Ol' College Days :)
Started DailyGood, as a fun prank to send out inspiring quotes at 4AM while interning at Sun Microsystems :) In 1997, held first Awakin Circle, with my mom and Guri. In 1999, the infamous pizza gathering ... at what is now known as the Intergalactic headquarters. :) Four of us did the first project, and ServiceSpace emerged.